Walter is investing at its company HQ. With its new Technology Centre, the Tübingen-based machining solution specialist is keen to offer its customers and employees even better opportunities for gaining first-hand experience of using and testing high-tech tools.

With a final hammer blow, CEO Mirko Merlo yesterday laid the foundations for the new Technology Centre of the Tübingen-based manufacturer of high-tech metal cutting tools. Starting early in the summer of 2016, Walter will use the new building to develop and test the machining technologies of the future – working with genuine customer components and materials. New machining processes will be optimised for real-world work applications in technical training sessions and workshops with customers, trading partners and employees from across the globe. Walter is also planning on machining prototypes of selected components in direct coordination with customers from the aerospace, energy, automotive and general engineering sectors at the new Technology Centre.
The Walter Technology Centre will be equipped with the latest processing and communication technology. This will enable training sessions to be broadcast live to all Walter distributors from the machine hall located on the ground floor. The largest of the six training rooms, the auditorium, can seat up to 200 guests and is therefore suitable for major customer events and cross-sector expert symposiums.

"Engineering Kompetenz that you can touch: This is the philosophy of our new Technology Centre," explains Mirko Merlo, CEO at Walter AG, "and, in future, we will welcome all of our visitors in this representative building, demonstrating the full bandwidth of our services. After spending one full day working and experiencing everything that the Technology Centre has to offer, our customers and overseas employees will be left in no doubt as to the innovative power and solution expertise of the Walter brand."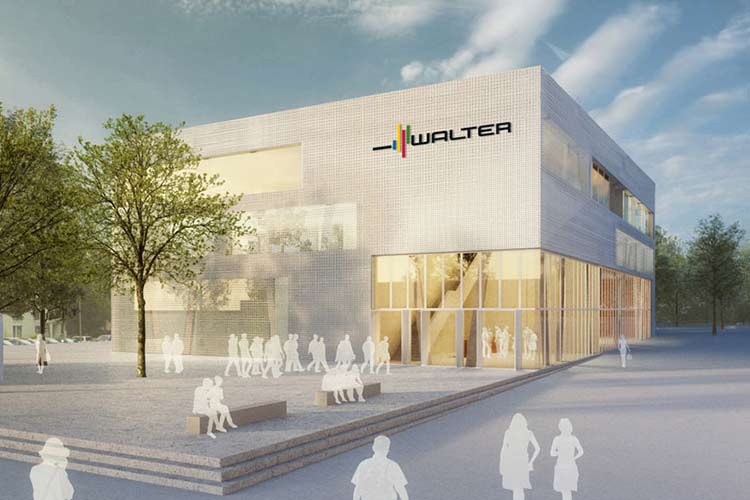 "We will also use practical examples to demonstrate our idea of a "digital factory", in which machines, tools and workpieces are all networked," explains Jacek Kruszynski, Vice President of the Global Competence Centre. Walter also offers software-supported machining strategies and services for manufacturing processes in the metal industry – from the selection and provision of tools, through machining, and all the way up to reconditioning and recycling of the high-grade carbide tools.
The Technology Centre, which was designed by the Tübingen-based Hähnig Gemmeke architects office and boasts approximately 5,000 square metres of floor space, also includes a generously proportioned cafeteria on the top floor for all Tübingen-based employees and visitors.