The S33 model of universal grinding machine from Studer brings important advantages for customers in tool making, job shops and the supply industry: Countless workpiece geometries can be ground in a single clamping! The wheel-head with three grinding wheels ensure that the work piece can be machined even more individually and quickly.
In addition to the familiar production wheel head, which can be used at 0 deg and 30 deg, the universal head can be fitted with two external grinding spindles and one internal grinding spindle. Both external grinding wheels with Ø 500 x 63mm (80/110mm Form 5) are arranged on the right. The universal head can be manually positioned every 2.5 deg or is available with automatic B-axis with 1 deg Hirth serration. HF spindles are exclusively used for internal grinding.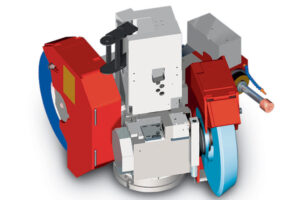 The clever design of the S33 allows us to achieve an up to 1/3 extended grinding length, in comparison with the competitors. In conjunction with grinding wheel arrangement on the right with plunge angle 30 deg, reduction of the efficient grinding length should always be taken into account.
The S33 is available with a CNC control and integrated PC. This enables the use of the new StuderWIN operator interface. The StuderGRIND programming software modules can now be installed directly on the control system.
Proven S33 features: Unique arrangement of the motor spindles. Very simple changeover from grinding between centers to live spindle grinding. Swivelling machine table. Optional C-axis for form and thread grinding. Granitan® machine bed. Large selection of options and accessories.
Courtesy: Mfgtechupdate.com