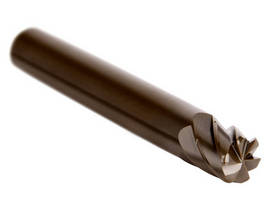 Most shops evaluate new cutting tools in an effort to reduce machining time, increase tool life, or improve part quality, and sometimes all three. Stellar Precision Components Ltd., a Tier II aerospace supplier in Jeanette, Pennsylvania, did it for an entirely different reason. "We'd just taken an order for some Inconel parts," says production manager Edward Frieze. "None of us were really worried at that point about tool life or making a profit on the job—our only concern then was how the heck could we get them shipped in eight weeks."
Opening Doors
Four decades earlier, Mike Vucish Sr. was working for a manufacturer of naval nuclear components when he saw an opportunity to go into business for himself. He bought some equipment, invited a few students from the technical school where he taught shop class at night, and opened the doors of Stellar Precision in 1978. He continued to work at his day job until his fledgling company was firmly established, but in the meantime brought some family members on board to help out.
"We started out doing a lot of overload work from other larger shops in the area, but that evolved into direct support of several nuclear programs because of my father's experience in this area," says daughter Lori Albright, now owner and president of Stellar Precision. "We've since become a key supplier to a number of prime aerospace and defense contractors including Boeing, Lockheed, and Raytheon, as well as various nuclear and medical customers, and have over 70 employees and sales revenues of nearly ten million dollars US."
Stellar prides itself on continual updates to its equipment list, and has an eclectic mix of CNC machine tools from Haas Automation and Okuma, although that balance is steadily tipping in Haas' favor as the shop's older machines go into retirement. Albright says not only is the Haas equipment less expensive than its foreign-built competition, but that "Made in America" resonates with many of Stellar's customers. "This approach also lets us replace our equipment on a more regular basis, which in turn keeps us current on technology."
Key equipment includes an Okuma LB-45 lathe able to turn 36 in. diameter parts up to 120 in. long (91 mm x 305 cm), and a Haas VF-11 5-axis machining center with 10 ft. of X-axis travel (305 cm) and a table load capacity 4000 lb. (1814 kg). Stellar also has several wire EDMs, a dozen or so 3, 4, and 5-axis machining centers and mill-turn lathes, and offers value-added services such as non-destructive testing, welding, heat treating, and Teflon coating.
Not Too Tough
Stellar is used to meeting demanding requirements. Recent projects include components for RAM Block II anti-ship missiles, the CCtCap crew transport vehicle, 155mm Long Range Land Attack Projectile (LRLAP) advanced gun system, rocket motor cases for the Atlas Five launch vehicle, and others. Their newest project, however, would be one to test the mettle of machinists and management alike.
Frieze explains that Stellar had just received a purchase order for a handful of Inconel 625 prototypes. The raw material blanks for the job measured 18 in. square x 3 in. thick (457 x 457 x 76 mm), and weighed nearly 300 lb. each (134 kg). The project team suffered little indigestion over the tough material's poor machinability; Stellar routinely cuts Inconel and other nickel-based superalloys, as well as tungsten, maraging steels, 60 Rc 4340 (300M), and tool steel.
Nor was tolerance an issue. Frieze points to one recent titanium part that called out a 0.005 in. (0.127 mm) profile tolerance over its 12 in. length (304 mm), the equivalent of holding "a couple tenths" in parts that cost over $5000 apiece before machining. Meeting the relatively wide open tolerances on the Inconel part was not a concern.
The problem was one of raw material removal: when finished, the Inconel plates weighed in at a svelte 30 lb. (13.6 kg), 90-percent lighter than their starting weight. Frieze knew there weren't enough hours in the day to remove that much material using conventional carbide tooling, not if he were to meet the deadline. He needed a better solution.
Seminar Payoff
Earlier that year, Frieze and several of his coworkers had attended a learning event sponsored by a local chapter of the National Tooling and Machining Association (NTMA), and hosted at the Kennametal technical center in the nearby town of Latrobe. There he met product manager Matthieu Guillon, who introduced him to a cutting tool that Frieze was initially skeptical of. "It looked and felt like a plastic toy end mill," he laughs.
That tool was Kennametal's series of 4 and 6-flute high performance full ceramic end mills. Constructed of SiAlON KYS40 grade ceramic and designed specifically for roughing in nickel-based high-temperature alloys, these end mills often out-produce carbide by up to 20 times. Says Guillon, "We recommend a starting speed of 825 SFM up to 3300 SFM (250 to 1000 m/min) and feedrates starting at around 0.001 IPT (0.03 mm) depending on the tool diameter and other conditions. Despite the far higher cutting speeds, we have some customers who have reported 2 to 3 times greater tool life than carbide."
Stellar didn't have any immediate use for the ceramic tools, but after making some quick feed and speed calculations, Frieze knew they would be an effective solution given the right application. Several months later, that application arrived with the Inconel plates. He called Guillon to say he might have a good use for those ceramic cutters they were talking about, and wondered how soon he could get some.
Skeptic to the Last
Frieze remained skeptical. He'd tried indexable ceramic cutting tools on both milling and turning jobs in the past and had mediocre results. In this case, however, he was willing to try anything if it meant meeting the customer's deadline. When Guillon arrived a few days later with the ceramic end mills, Frieze followed Kennametal's feed and speed recommendations to the letter, crossed his fingers, and pushed cycle start.
"We weren't certain what would happen so started out with a block of test material," he says. "You don't use cutting fluid with ceramic—only an air blast—and everyone in the shop was crowded around the machine saying, 'Wow, look at that!' There was fire shooting everywhere. It was something we'd never seen before. But within the first hour, we knew it was going to work."
"The tools aren't inexpensive," he says. "At one point, Lori had around $20,000 worth of end mills sitting in her office and we were starting to question the investment. But once you calculated in the machine costs and reduced cycle time, we figured it was three to four times more cost-effective to go this route. Each end mill gave us one half hour of cut time, at which time we replaced it whether it was worn or not. The process was so predictable we were able to run lights out. It was a drastic savings."
Enjoying the Heat
Best of all, Stellar delivered the parts on time with zero scrap, and is now quoting a second, even larger order. Owner Lori Albright was quite pleased with the outcome. "This type of situation is the nature of our business. We have to react to our customers' needs and employ the best technology available to do so. That's one of the reasons why Kennametal is so welcome here. We work together as a team to solve challenges."
Looking forward, Albright anticipates continued growth. Having expanded Stellar's existing facility six times, she figures it might be time to put up an entirely new building on nearby property. She also looks forward to bringing additional young people to the machining trade. "We have apprenticeship programs with several of the area schools, one of which my father used to teach at," she says. "I find that it's often our younger people that drive our innovation. It's too easy to keep doing things the old way and not invest in tooling and equipment, or pursue new technology. The days of high volume, round-the-clock fender clip manufacturing are gone, and it's only by continually improving their manufacturing processes that companies can succeed and grow. For us, Kennametal is part of that success."