The new disc milling cutters is named 335.25, for large slot widths (which will progressively replace the existing 335.18).
The milling insert features a V-shape concept that creates an optimum cutting geometry, reducing cutting forces and noise. Thus, cutting data can be increased for maximum productivity even in unstable conditions. The V-shape also creates a strong and reliable connection between the insert and the cutter body.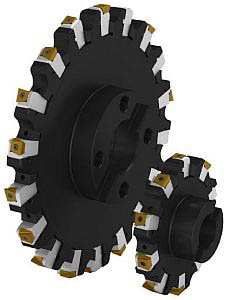 Insert corner radii are available from 0.4 to 6 millimetres, with four cutting edges to reduce the cost per part. Insert geometries and grades are available for all materials, and a built-in wiper flat produces fine surface finish, eliminating secondary operations. The cutters are available with fixed pockets with central coolant or adjustable pockets for maximum flexibility.
Following the fixed pocket version, Seco's 335.25 disc milling cutter is now released in a version adjustable in width. The cutting width can be adjusted with high precision from 13.5 to 32 millimetres with size 14 inserts. Cutters are available from diameter 80 to 315 millimetres with an optimised chip space and number of teeth to get a productive and reliable machining operation.
The adjustable disc milling cutter incorporates replaceable cassettes, making it easy to quickly adjust cutting width with precision. The cassettes feature a coating for extended durability, and two sizes of cassettes provide an optimised chip space and number of teeth to achieve a productive and reliable machining operation. Additionally, all cutters in the 335.25 line offer a unique insert geometry that reduces cutting forces and noise levels, while maximising chip flow.
All the inserts feature four cutting edges, optimised free cutting geometries and a built-in wiper flat. Together with a complete range of grades and corner radii, this allows the disc cutter to meet all application needs with high productivity at the best cost.
From 13.5 – 32 mm groove width
Dc = 80 – 315 mm
re = 0,4 – 6 mm
Full range of geometry choices and grades.
courtesy: mfgtechupdate.com