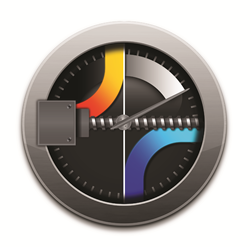 Okuma America Corporation, a world-leader in CNC machine tool manufacturing, introduces ServoNavi, a new Intelligent Technology that improves cycle times and accuracy when machining heavy parts. ServoNavi is the fifth option available in Okuma's set of performance-enhancing "Intelligent Technologies" and is standard on most machining centers, lathes and multitasking machines equipped with the OSP-P300 control.
ServoNavi Highlights
Work Weight Auto Setting: Automatically estimates table loads, adjusting for optimal speed resulting in faster cycle times. This function is ideal for dies requiring surface shaping.
Auto Inertia Setting: Estimates chuck and workpiece speed and direction, automatically changing servo parameter settings to optimum values to reduce positioning errors. High accuracy and stable movement are maintained during machining.
Reversal Spike Adjustment: Maintains machining accuracy and surface quality by fine tuning slide resistance changes that occur over time due to various machine tool applications. Decreases reversal spikes and eliminates crease marks during axis reversal, resulting in better surface finishes.
Vibration Auto Adjustment: Eliminates noise and vibration which contributes to longer machine life while improving surface quality.
For more information on ServoNavi, visit http://www.okuma.com/servonavi .
About Okuma America Corporation
Okuma America Corporation is the U.S.-based sales and service affiliate of Okuma Corporation, a world leader in CNC (computer numeric control) machine tools, founded in 1898 in Nagoya, Japan. The company is the industry's only single-source provider, with the CNC machine, drive, motors, encoders, and spindle all manufactured by Okuma. The company also designs their own CNC controls to integrate seamlessly with each machine tool's functionality. In 2014 Okuma launched the Okuma App Store, the industry's only centralized online marketplace for machine tool apps and related content. Along with its extensive distribution network (largest in the Americas), and Partners in THINC, Okuma is committed to helping users gain competitive advantage through the open possibilities of machine tools, today and into the future. For more information, visit http://www.okuma.com or follow us on Facebook or Twitter @OkumaAmerica.