DMG MORI is promoting CELOS as an elementary basis of the transition to full digitization of production process chains
"Industry 4.0" is dominating discussions of the future like nothing else, particularly in the machine tool design sector. As the world's leading manufacturer of machine tools, DMG MORI is supporting its customers on their path to complete digitization with the help of the CELOS app-supported system.
The change to digitization is becoming ever clearer – particularly in the field of machine tool design. In turn, this means that software in the production environment is becoming increasingly important. For this reason, companies in the industry are following developments particularly attentively. They know precisely that the foundations for Industry 4.0 must be laid today and in the immediate future in day-to-day production. DMG MORI is supporting its customers in the digital transformation with the help of integrated solutions, which can be connected seamlessly to one another.
CELOS from DMG MORI
A central component of DMG MORI's customer-oriented innovation strategy is the app-supported CELOS operating and control system, which the machine tool manufacturer introduced approximately 3 years ago. Since then, it has been continuously and very specifically developed. Using a common interface for machine and office PC, both manufacturing and production planning staff can manage, document and visualize the sequence of jobs and processes as well as the machine data.
Along with its tasks on the factory floor, CELOS also enables data to be exchanged with high-level structures thanks to its open architecture. CELOS therefore enables the customer to fully integrate his machines into the company organization while, at the same time, creating an interface between the machining process and cyber-physical production systems of the future. The advantages for day-to-day operation are impressive: a time-saving of 30% for set-up, and half the effort and time required for calculating technical values or for searching for important data are just one example of savings, which can be achieved with CELOS. Thanks to the continuous development of further future-oriented applications, CELOS ensures a trouble-free introduction of Software Solutions for Industry 4.0.
An excellent example is the CELOS CONDITION ANALYZER. In conjunction with the I4.0 sensor pack, on the one hand, this provides the user with a perfect software tool for monitoring machine condition and machining process, enabling him to carry out timely performance and condition analyses directly at the machine or externally via our CELOS PC. On the other hand, in the second step, the data gathered by the sensors and locally conditioned can be forwarded to a cloud platform. Here decisive knowledge for a reliable "predictive maintenance" solution can be derived using an algorithm-based long-term evaluation. Customers therefore save maintenance costs and have an effective tool for substantially avoiding unplanned downtimes.
5-axis competence for every application
DMG MORI underpins its expertise in 5-axis and 5-axis simultaneous machining with an extensive machine portfolio and the installation of dedicated Centers of Competence.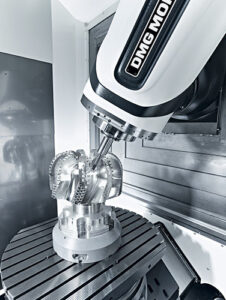 Milling with 5 axes, especially 5-axis simultaneous machining, is one of the most fascinating production processes, albeit one of the most demanding ones. With decades of experience and the largest range of 5-axis machines DMG MORI ranks among the pioneers of this proven and at the same time innovative technology. The machine tool manufacturer responds to the ever increasing demands in this segment with the ideal solution for individual application requirements.
Thanks to an extremely broad product portfolio and a high market presence DMG MORI has long established itself as the leading supplier of machine tools with 5-axis technology. DECKEL MAHO Pfronten alone has to date placed more than 15,000 5-axis machining centres on the market, these include the universal machines in the monoBLOCK and duoBLOCK series.
The reason for this intensive concentration on 5-axis solutions lies in the advantages this technology brings for the entire manufacturing process. Alfred Geissler, CEO of DECKEL MAHO Pfronten GmbH, gives us some examples: "Tools can machine a surface in the required angle, instead having to mill it in many small cutting steps with 3-axis technology. Or cross-bores and undercuts, for example, that in comparison cannot be machined cost-effectively at all on a 3-axis machine." Even more fascinating is the geometric flexibility that is evident in many customer applications. As 5-axis machining generally involves complete machining in a single setup, users benefit across the board. Thanks to reduced tooling times, the production of complex workpieces is more cost effective and, because there is no loss in precision during retooling, also more accurate than is the case with sequential 3-axis machining.
Always in the proximity of customers thanks to 5-axis Excellence Centers
In future DMG MORI will respond to the growing interest in 5-axis solutions with both its comprehensive product portfolio and its entire technical competence in this field. "Simultaneous machining in particular places high demands on the process chain from CAD to CAM and on through to control technology and of course on the competence of employees in construction, work preparation and the workshop", explains Alfred Geissler. This means that DMG MORI is also called upon as an adviser. "Heralding the fascination of 5-axis milling throughout the world and holistically conveying the requirements to our international customers is the task of our new 5-axis Excellence Centers, which we are currently installing around the world in the proximity of our customers." The first two have already been opened in the Italian town of Padua and in Tokyo, Japan. DMG MORI is planning further 5axis Excellence Centers in the USA, China and Korea. The aim here is to sensitize customers to the possibilities as well as to the challenges of 5-axis machining, as Alfred Geissler goes on to tell us: "To achieve this we will offer seminars and training courses. In addition customers will be able to carry out individual application tests on site together with our specialists in order to gain experience and put their investment on a sound footing."